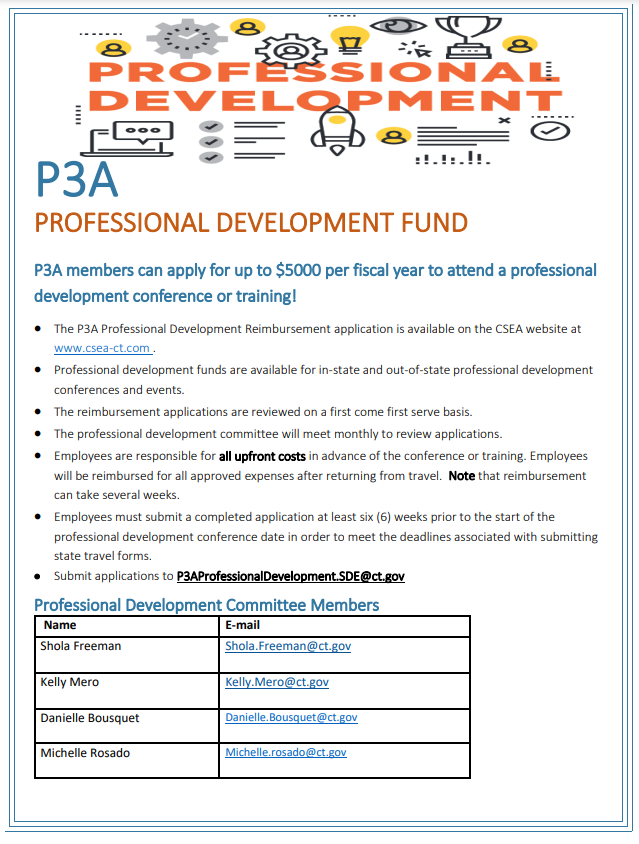 P3A PROFESSIONAL DEVELOPMENT REIMBURSEMENT APPLICATION
Upon approval of this application, employees must submit all required state travel forms for approval. Please consult with your support staff for assistance with travel forms. The employee is responsible for all upfront costs. Reimbursement occurs upon return from the conference after the employee submits all receipts. Reimbursement can take several weeks.
P3A APPLICANT INFORMATION
Name:

Date of Application:

Employee I.D.




Agency:

Position/Title:




Home Address:




City:




Zip Code:

E-mail:



PROFESSIONAL DEVELOPMENT (PD)
Training, Conference, or Workshop Information
| | |
| --- | --- |
| Name of PD Event: | |
| Location of PD Event: | |
| Date(s) and Time(s) of Attendance: | |
Please provide a description of the professional training along with supporting documents that includes fliers, web announcements, and conference details regarding workshop series, speakers, and certifications if applicable.
PROFESSIONAL DEVELOPMENT COSTS (Receipts are required for reimbursement)
Please provide an estimated cost for all applicable line items. 5,000 maximum per P3A member/per fiscal year.
| | |
| --- | --- |
| Expense Type | Cost |
| Registration Fee (Includes materials): | $ |
| Travel/Airfare: | $ |
| Rail/Bus: | $ |
| Taxi: | $ |
| Car Rental: | $ |
| Parking: | $ |
| Mileage within Connecticut ($.625 GSA) | $ |
| Lodging Expenses: | $ |
| Meals (Breakfast $11.00/Lunch $15.00/Dinner $26.00) | $ |
| Total Expenses (up to $5000 per person per Fiscal Year) | $ |
PREVIOUS PROFESSIONAL TRAINING
| | |
| --- | --- |
| Have you participated in professional training within the past 12 months? Yes/No | |
| Please indicate the number of trainings you have participated in within the last 12 months | |
PROFESSIONAL ADVANCEMENT
Professional training goal:

Briefly explain how this activity will allow you grow professionally:

Click or tap here to enter text.

How will you use this activity to enrich the workplace?

Click or tap here to enter text.

Is this activity related to your current work assignment? Yes/No

If you answer no to the question above, briefly explain how this activity will support your professional growth.
EMPLOYEE SIGNATURE
By signing below, the P3A employee attests that they have attended or plan to attend the conference described in this application for edification and professional growth as it pertains to employment with the State of Connecticut. The employee agrees to provide all required documentation and proof of attendance.
P3A employee's signature: _______________________________ Date: ___________________
MANAGEMENT APPROVAL
?By signing below, bureau/unit manager subscribes that the intent of this application is to support payment of expenses incurred by the above signed P3A employee's' access to professional development/conference/training which is otherwise unavailable to them.
Manager's name: _____________________________________ Title: _____________________
Manager's signature: ______________________________________ Date: _________________
P3A PROFESSIONAL DEVELOPMENT COMMITTEE ACTION
Approval of this form prohibits the use of union funds to supplant agency required training and/or agency/grant funded training.
? APPROVED ?DENIED by the PD Committee
P3A Union representative: ______________________________________ Date: _____________
Management representative: _________________________________ Date: _____________