WELCOME TO THE CSEA COUNCIL 400'S WEBPAGE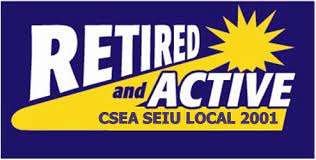 CSEA Council 400 is the oldest and largest organization representing public sector retirees in Connecticut. Established in 1962, Council 400 now has 12,000 members in 26 chapters in four states. In Connecticut alone, there are 17 chapters. Florida has seven chapters and South Carolina and Cape Cod each have a chapter.
Council 400's mission is to protect and enhance retirement security for retired public employees. On the State level, we fight to protect our pension and health care benefits. On the Federal level, we fight to protect Social Security, Medicare and Medicaid. We do so by holding politicians accountable, so that our retiree members have the security and dignity they desire and have earned after a career in public service.
---
JOIN US – Call the Retiree Organizer, Kevin Sullivan at 860-951-6614 x 118 today!
Page Last Updated: Jun 17, 2021 (12:00:00)