| | |
| --- | --- |
| Family Childcare Providers Blog | Jun 11, 2022 |
Childcare Providers Make Some Noise / Los proveedores de cuidado infantil hacen algo de ruido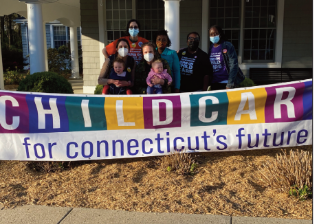 On May 9th Childcare Providers took to state capitols, state political conventions, and street corners throughout the nation to make their voice heard. Providers need support now!
Childcare Change Makers, a national organization, was so impressed with Connecticut's provider action on March 15th that they were inspired to duplicate the effort nationwide. The Connecticut early education rally was led by Child Care For Connecticut's Future a Coalition which was created by multiple organizations. CSEA is a leading partner and managed to organize over 1,400 parents, advocates, and provider groups across the state for an event dubbed "Morning Without Childcare."
Because of the efforts by CSEA members and coalition partners providers were able to secure $185 million in new funding for the Office of Early Childhood. A historic and overdue amount.
In the beginning of session the idea of more money was laughed at but through advocacy money prevailed. The new funding will not fix the on going crisis but it will help providers keep their doors open one more year. It also secure that parents aren't scrambling to find care. The original ask of $700 million will be attempted once more by the advocacy group next year!
***
El 9 de mayo, los proveedores de cuidado infantil tomaron los capitolios estatales, las convenciones políticas estatales y las esquinas de las calles de todo el país para hacer oír su voz. ¡Los proveedores necesitan apoyo ahora!
Childcare Change Makers, una organización nacional, quedó tan impresionada con la acción de los proveedores de Connecticut el 15 de marzo que se sintieron inspirados para duplicar el esfuerzo en todo el país. La manifestación de educación temprana de Connecticut dirigida por Child Care For Connecticut's Future, una coalición creada por varias organizaciones, un socio líder CSEA logró organizar más de 1,400 grupos de padres, defensores y
proveedores en todo el estado para un evento denominado Morning Without Childcare. Gracias a los esfuerzos de los miembros de nuestro sindicato y los socios de la coalición, los proveedores pudieron obtener $185 millones en nuevos fondos para la Oficina de la Primera Infancia. Una cantidad histórica y atrasada. Al comienzo de la sesión, se rieron de la idea de más dinero, pero a través de la promoción prevaleció el dinero. La nueva financiación no solucionará la crisis actual, pero ayudará a los proveedores a mantener sus puertas abiertas un año más. También asegura que los padres no se apresuren a encontrar atención. ¡El grupo de defensa intentará una vez más la solicitud original de $ 700 millones el próximo año!