Early Voting Amendment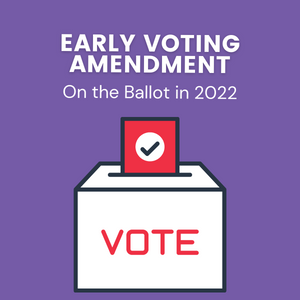 After years of hard work by CSEA members and our allies, Connecticut voters will have an opportunity to make a choice to allow for early voting in future federal, state, and municipal elections. When we go to the polls in November to vote for Senator, Governor, General Assembly members, and other elected offices, we will also be voting on a ballot referendum to make an amendment to the Connecticut state constitution.
Right now, Connecticut is one of only four states that do not allow all voters to cast their ballots in person prior to Election Day. And, because that prohibition is written into our state constitution, the only way to change it, is to pass a constitutional amendment. It's simple: government of the people, by the people, and for the people works best when more people are involved in making decisions. Unfortunately, work and family responsibilities make it hard for some people to get to the polls on Election Day. This constitutional amendment to allow for in person Early Voting will provide Connecticut voters with more choices about when to cast our ballots.
Amending our state constitution sounds like a big step. What does this amendment actually do? All this amendment does is give the General Assembly the ability to allow for early voting in person by eligible Connecticut residents. The specifics of what that would look like will be determined through the open process by which all of our state laws are passed.
Now, it's important to remember that what we're talking about here is early voting, which is different from absentee balloting, often called voting by mail. The constitutional amendment on the ballot on November 8, 2022 is about early voting in person. While voting by mail has been allowed during the ongoing deadly, global COVID pandemic, it will take a separate constitutional amendment to make absentee balloting a permanent option for Connecticut voters.
Here's the question that will be before voters on Election Day:
"Shall the Constitution of the State be amended to permit the General Assembly to provide for early voting?"
Early voting provides flexibility, increases access, and expands opportunities for participation that strengthens our democracy. CSEA members have been vocal advocates for this critical electoral reform and this November we can make it happen!