Pandemic Pay Update for State, Municipal & Private Sector Workers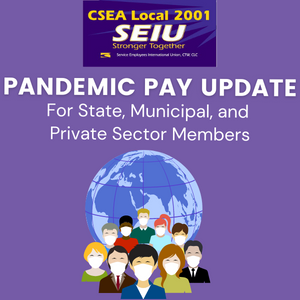 Frontline essential state workers sacrificed their health and safety throughout COVID-19 to ensure that the critical services our 3.6 million Connecticut residents rely on remained accessible.
While Connecticut can never fully repay frontline essential workers -- private, municipal, and state --it can certainly take a step to respect these workers. Pandemic pay is that step.
For private sector workers, the Office of the State Comptroller opened a portal for private sector frontline workers to apply for up to $1,000 of pandemic pay from the $30 million allocated to private sector pandemic pay during the 2022 Legislative Session. Private sector frontline essential workers have until 10/1/2022 to apply for pandemic pay, however, once the $30 million fund runs out, there will be no additional monies
allocated to workers.
CSEA members working as Care-4-Kids childcare providers or private sector school bus drivers/monitors are eligible for this benefit and are encouraged to apply by visiting this link.
At this point we are under the impression that the more people that apply, the less eligible applicants will receive but we continue to push for this fund to be fully funded. The latest numbers we have at the time of this printing show that the average award is about $200.
State workers and the Connecticut National Guard have been allocated an additional $35 million. SEBAC leaders have been in on-going negotiations with the State to reach an agreement on the allocation of these funds to ensure that there is a risk-based approach applied to the monies where essential state workers most at risk would receive the highest compensation. SEBAC hopes to reach an agreement in the next month or the coalition will be entering into arbitration over the distribution model for this fund. Once an agreement is reached or the matter is arbitrated, the frontline essential state workers will receive their pandemic pay.
It is important to note that the Coalition's position on those that retired in the last few months has been that if you worked during that time period, you will be eligible for pandemic pay proportional to the time period you worked within the agreed upon time frame.
For municipal and BOE workers, we continue to push for pandemic pay at the individual bargaining tables and will push again at the General Assembly for state legislation that includes a requirement for municipalities to offer pandemic pay to workers.
CT?ESSENTIAL?WORKER COVID-19 RELIEF?FUND?&?PREMIUM?PAY?PROGRAM
CSEA's sustained advocacy for workers' compensation presumption helped lead to the creation of the Connecticut Essential Worker COVID-19 Relief Fund and Premium Pay Program. Under this program, essential workers - including state employees - and their families impacted by COVID-19 can apply to receive lost wages, out-of-pocket medical expenses, and burial costs.
Once again, the sacrifices our essential frontline members made throughout the pandemic can never be fully repaid, but pandemic pay is a necessary step to respect these sacrifices.